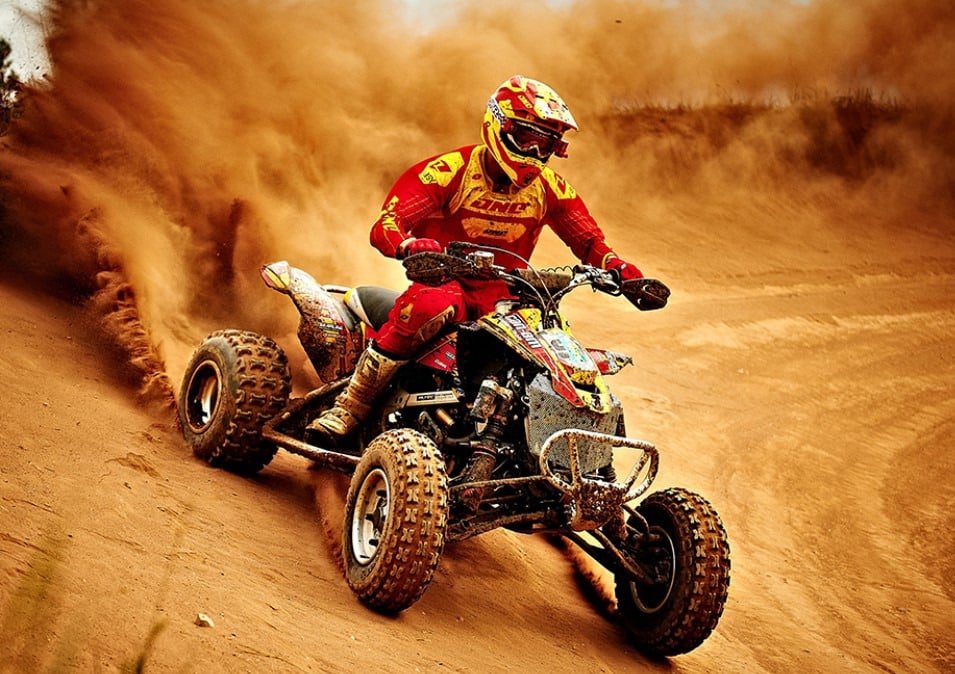 Are you the adventurous type? What is your vehicle of choice when exploring the backwoods or rocky trails? ATVs are among the most popular adventure vehicles on the market, and it is easy to see why. The robust body, versatile frame, and deliberate controls make an ATV more than capable of handling any path you wish to venture down. However, even though many ATVs come ready to go, there are many things you need to ensure a great ride, and ATV tires are only the beginning.
ATV Essentials
Before you start modifying your ATV, consider the number of essentials you need to support a typical ride: ATV helmets, safety gear, tires, clothes, etc. Of all the equipment you will buy, a helmet is likely the most important. The helmet reduces the risk of severe head trauma if you are in an accident.
In addition to a well-fitting helmet, you will also want to pick up other safety gear and clothing. You can purchase chest, knee, shoulder, arm, and hand protection, and you should, especially in off-road racing. Additionally, the clothing you select for riding is vital to your safety. You should wear long pants and long sleeves.
Finally, consider the tires. Before you can purchase ATV tires, you will need to know your riding style. Are you an off-roader, or do you prefer well-worn trails? Are you planning on riding in deep mud or a dry area? Answering these questions is only the beginning of figuring out what tires you should purchase.
ATV Tires That Will Make Your Ride a lot Smoother
Whether you are looking to ride those rocky mountainous roads or the mud trails around the creek, tire selection has a lot to do with the riding experience. The right tires can make all the difference for a smooth and comfortable ride.
If you plan to drive through rough areas, consider purchasing some of the best rocky terrain tires. The Kenda K587 Bear Claw tires are exceptional for aggressive riding.
If you are looking for something for mud riding, check out tires specifically designed for that purpose. Some of the best deep mud tires include ITP Mega Mayhem or Maxxis MUO2 Zilla tires.
Primarily, if you know the riding you plan on doing most, you should select a tire for that specific task. However, if you are unsure of the riding you will be doing, consider getting a solid all-terrain tire set, like ITP Mud Lite XL.
Top Rated ATV Helmets
When it comes to helmets, one of the main concerns is fit. You want your helmet to fit snuggly. It should not move around too freely. If the helmet moves too much or provides too much interior room, it will not offer as much support or protection during an accident. Some of the best helmets for ATV riders include:
AFX FX-17
AFX FX-41DS
EVS T5 Grappler
Bell Moto-9 Mips
Troy Lee Designs GP Mono
Are you trying to get your ATV ready for summer riding? Head over to a local ATV supplier and pick up all the essentials for a smooth and fun ride.