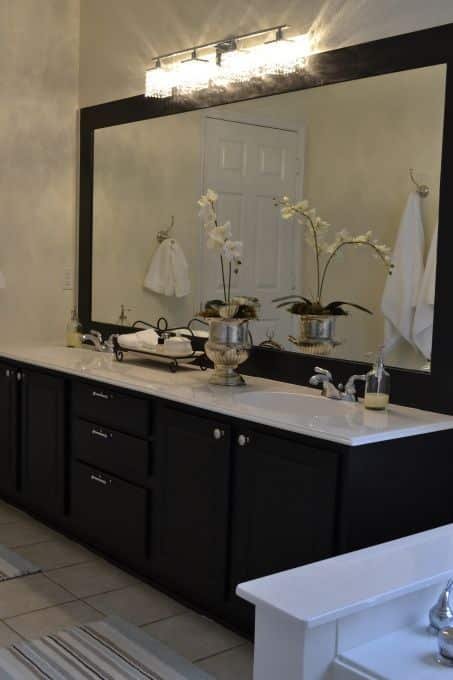 Although there are reports of mirror-like products from over 8,000 years ago, the first real mirror is credited to a German man named Justus von Liebig. In 1835, Mr. von Liebig used a clear pane of glass and adhered a thin, metallic silver layer on one side. This resulted in what we now know as our mirror. Not everybody was as excited about the possibility of seeing their image in a mirror. In the 1970's, in Papua New Guinea, the isolated Biami people were terrified to see themselves in mirrors. The reflective surface has evolved over the years to become a common fixture in nearly every bathroom. However, for many years, bathroom mirrors were merely hung above the vanity area with no frame and a simple edge.
Fast forward to today. We have many options for our mirrors. Beveling has become a way to create a more finished edge. Frames can take our bathroom to a whole new level!
Framing Your Bathroom Mirror
Gone are the days of the peeling corners and basic builder mirrors. Hardware and furniture stores offer an array of mirrors in styles like modern, art deco, ornately-carved, metal, iron, mid-century, industrial, bohemian and more. From rectangles to circles to squares, you can mix and match colors, styles, and shapes.
Bathroom mirrors are the focal point of the area. Adding a frame can transform your plain old mirror and cover up those peeling edges at a fraction of the cost of buying a new one. Framing your bathroom mirror sets it apart and creates a unique environment. For example, if you have an expresso vanity and you add a matching mirror frame, everything comes together. Or maybe you want a more nautical atmosphere – an ocean blue mirror frame will offset your towels and decor. For a more dramatic look, match your white cabinets with a black frame around the mirror.
Asking yourself how to frame a mirror? We can't forget DIY because that particular stream of fun has made the rounds. Building your own bathroom frame isn't as easy as it sounds. The amount of time it takes, the labor involved and, the cost is often just as expensive as if you had paid someone else to do it. Buying the materials, cutting, sanding, painting, and installing is a lot of work. Of course, you do have the satisfaction of knowing you did it yourself but that won't fly when you are dead tired and sore from doing the job.
Custom design mirror frames are less expensive than you think and will outfit your bathroom with a designer touch. Framing your bathroom mirror is just the start of how you can update and personalize your home.