Florals are not only coming up in fashion shows of 2020 but also in jewelry designs. Lily jewelry is one of the most popular designs that both independent designers as well as popular jewelry brands are opting for. To say it with flowers is the new trend and there is a wide variety of blooms to choose from. However, floral motifs are not a new trend in the jewelry industry. It keeps coming back in fashion time and again because of its everlasting charm. Floral designs were commonly found in pendants, earrings, rings and brooches in 17th century jewelry designs. What makes the floral motif so popular and why is the lily flower such a beloved design. Let us find out all about lily jewelry, its place in the fashion industry and its symbolism.
Blooms in jewelry
Different stages of a floral bloom have featured in jewelry since ancient times. Sometimes, it is a delicate bud or a fully-blossomed flower and at other times, it is a beautifully carved petal. Floral blooms represent the softness and beauty of femininity and this is probably why floral motifs are still so popular. You can find stunning jewelry with lily motifs on fancime jewelry
Yet another reasons for florals to be preferred by women is the unending customization that this design allows. You could have exotic gemstones, sparkling diamonds and pearly whites to adorn beautiful flower motifs on a piece of jewelry. A floral motif is also an expression of the fragility of new love and the promise of the passion that follows.
In the Victorian period, lilies symbolized going back to happier times. A very popular lily motif happens to be on the Lily of the Valley earrings of the Victorian Era. It is still considered to be an ornate piece of jewelry that is worn as necklaces, brooches and even rings.
Lily Jewelry & Its Symbolism
As far as mythology goes, Goddess Hera had first created the lily imagery. It is believed that while the Goddess was feeding her son, Hercules, drops of milk were accidentally squirted towards the sky that created the beautiful milky way. When some of those drops fell on the ground, lily flowers came into being. Their beauty threatened Goddess Venus who was extremely proud of her beautiful appearance. In an attempt to distract commoners from the beauty of lilies, she had placed a yellow pistol in the flower's center.
Lily jewelry is celebrated globally as a symbol of unending strength and beauty. It also represents love, fertility, purity and transience. When gifted on weddings, lily jewelry stands for a hundred years of happy union between the couple.
One of the variants of the lily flower is the calla lily that stands for survival of the fittest. They can adapt to very harsh weather and are a strong symbol of triumph.
Since lily jewelry is almost always in fashion, here is a list of 5 stunning designs of the lily motif that you could check out on https://fanci.me/Each one of these designs is fresh, alluring and very popular.
Blue Valentine rose stud earrings with blue topaz
INSPIRED BY BULGARIAN ROSES, EVOKE A ROMANTIC FEELING WITH UNIQUE MYSTERIOUS BLUE REFLECTIONS FROM NATURAL TOPAZ.
DIMENSION: BLUE TOPAZ 0.18 INCH X 0.18 INCH, ROSE PENDANT 0.61 INCH X 0.38 INCH.
Blue Valentine Rose Pendant Necklace with Blue Topaz
Inspired by Bulgarian Roses, evoke a romantic feeling with uniquemysterious blue reflections from natural topaz. Comes with 16 or 18 inches long 925 sterling silver chain.
Dimension: blue topaz 0.18 inch x 0.18 inch, rose pendant 0.67 inch x 0.35 inch, weighted 1.36 grams.
Dazzling Daisy Silver Stud Earrings
Subtle, delicate and sweet as a flower, the Dazzling Daisy Stud Silver Earrings are luscious compliment to your personal style.
Sterling silver daisy flower designed stud earrings set with round shape sparkling CZs.
Constellation Bar silver Earrings
TAKE YOUR OUTFIT OF THE DAY TO THE STARS WITH THIS ASTRAL DESIGN. WITH THE CONSTELLATION BAR SILVER EARRINGS ENMESHED WITH CUBIC ZIRCONIA, YOU'RE MADE TO SHINE.
STERLING SILVER BAR EARRINGS SET IN ROUND SHAPE SPARKLING CZS.
Blue Valentine Rose Ring with blue Topaz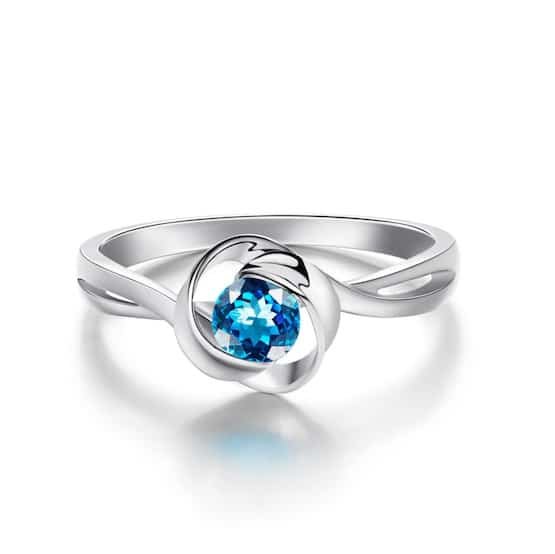 INSPIRED BY BULGARIAN ROSES WITH FULLY OPENED PETALS, EVOKE A ROMANTIC FEELING WITH UNIQUE MYSTERIOUS BLUE REFLECTIONS FROM NATURAL TOPAZ.